Subaru Upgrade Program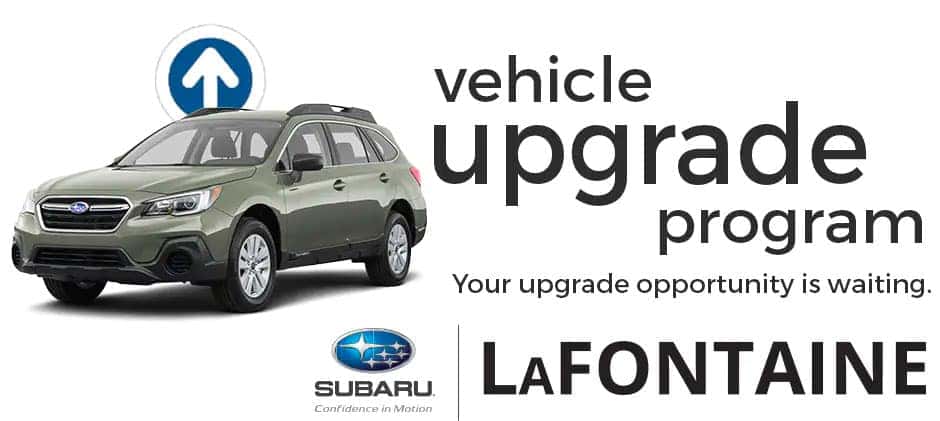 Subaru vehicles are known for their quality and outstanding reliability, which is why there are so many of them on the road today! You may love your current vehicle, but you may also be interested in the latest features offered by a brand new model. That's where LaFontaine Subaru comes in. You could be presented with an offer for us to buy your vehicle, as well as an upgrade offer for the new Subaru you've had your eye on. Interested in learning more about this quick and easy program?
We offer customers a no hassle, no obligation analysis of their vehicle when you service your vehicle at LaFontaine Subaru. If you qualify for the upgrade program we will take the time to present the information to you!
What are the benefits of the Subaru Upgrade Program?
The Subaru Upgrade Program Benefits include:
Above market value for your vehicle
Better financing terms
Longer and more comprehensive warranties
Lower fuel costs and increased miles per gallon
Reduced cost of driving
Reduced maintenance and repair costs
Increased safety and security technology
Brand-new comfort and entertainment features
Why should I be interested in the program if I haven't considered trading my car in?
Many people are unaware of critical information about their vehicle. A good example is when customers bring their vehicles in for service and are stuck with large repair bills because they are unaware that their manufacturer's warranties or vehicle service contracts have expired. Your Vehicle Analysis will identify and prevent this from happening to you.
Mon, Thu

9:00 AM - 9:00 PM




Tue - Wed, Fri

9:00 AM - 6:00 PM




Sat

10:00 AM - 4:00 PM




Sun

Closed
Mon - Fri

7:30 AM - 6:00 PM




Sat

8:00 AM - 2:00 PM




Sun

Closed
Mon - Fri

7:30 AM - 6:00 PM




Sat

8:00 AM - 2:00 PM




Sun

Closed